In this after-death communication, Amy experiences a visit from her deceased father, who appears in the form of a Blue Gambel Quail, not common to her area.
Amy writes:
"My father passed in March of this year. He was hospitalized for a month beginning in December 2014 – he had care givers in his home round the clock until his death in March 2015. I spent those months from December to March extremely busy managing two households; paying bills, bringing groceries over, filling prescription, taking him to doctor appointments – you name it.  Even now, I've been busy cleaning out his house, handling his estate and trying to get his personal effects to family and friends who will appreciate them."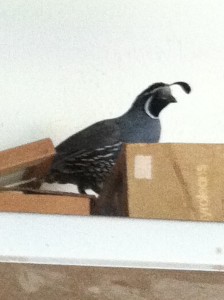 "The Day after his funeral, his two nieces, Cheryl and Nancy and I went by his house (they wanted to take some of his hats back to their sons, nephews, husbands). We weren't in the house very long – I left my cousins in the house and I went out to the garage to look for a photo. I got out to the garage and I heard a scratching noise – (I immediately thought there was a rat in the garage).  I looked up and above Dad's work bench was the Blue Gambel Quail. The first words I said without any thought were, "Dad, what are you doing?"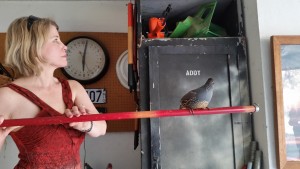 "My cousins came out. We tried to shoo the quail out of the garage – but he acted like he wanted to stay awhile. He flew down to a bookshelf near me and allowed me to hold him. I held him and talked to him for a while. I told him that it's OK for him to go, that he has "fought the good fight." This was the only verse in Dad's bible that was highlighted. The quail stayed long enough for us to get several pictures. Even the neighbor across the street (also Dad's Physical Therapist during his last days) came to check out what was going on. There is no doubt in my mind that this was a visit from him."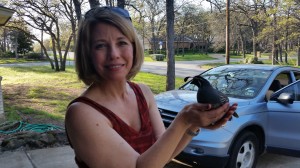 "The encounter with the quail took place just east of Ft. Worth, Texas. The Blue Gambel Quail's habitat is primarily Southern California, Arizona and New Mexico. Some in West Texas, but they aren't seen much in North East Texas – which made this visit even more surreal. I did some research on that Quail. He is the State Bird of California. A long way from home, wasn't he?"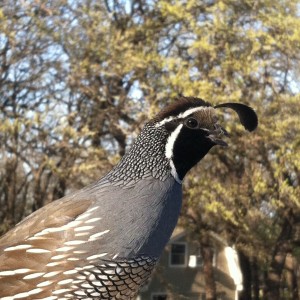 "I have had several folks ask if maybe he was nesting in the garage – and there is no way. The house was locked tight for about a week. Combine that with the high temperatures in Texas – nothing could of survived being in the garage that long without water. He flew in the garage sometime while we were in the house."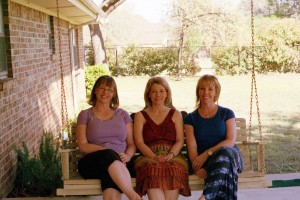 "The image of Nancy, Cheryl and me was taken on the day we saw the quail. We were at my Aunt's house before heading over to my Dad's house. Definitely the Quail is the coolest and we even have the pictures! We were all amazed at how calm that bird was and the fact that he didn't want to leave. He hung out for several minutes before flying into the back yard."
"I had been feeling a bit lonely and depressed, especially now that his house is practically cleared out. I was over at Dad's house last night and his phone rang. I let it go a couple rings before I picked it up. Silence on the other end – I listen for a while and there was not any sound. Eventually I said hello – but no audible response. I didn't think much of it at the time, but later on I realized that this may have been an attempt by him to check in with me. Trust me if it rings again – I'm going to listen intently!"
Commentary- When I asked Amy for a little more information about her father, she verified my suspicions. As it turns out, Amy's father, Colonel Gordon William Addy, was actually a Flight Instructor and Pilot for the Air Force! It makes perfect sense why he would appear with great pride as this beautiful bird."
"From his "bird's eye" view, he watched Amy and his two nieces as they went to his former home before making his grand appearance. By the way, Amy's quail was also a male.
Having found this bird in her father's garage and without even thinking, Amy intuitively asked, "Dad, what are you doing?" Something in her immediately recognized that it was he who joined her in the garage. These birds are normally not seen in her area, but even if they were, what's completely amazing is that this bird allowed Amy to hold him for any amount of time!  I know, I have many bird-feeders in my backyard; therefore, many birds visit my yard on a daily basis. I have yet to have one sit in the palm of my hand, let alone be snuggled with! But for Amy who held him, I'm sure it was literally healing to be able to hold her father once again. And… healing for Cheryl and Nancy who witnessed this strange and wonderful sight. 
A day later, Amy was at her father's home again when the phone rang. Even though there was no conversation had that day by Amy and her father, even a ring of the phone could be an attempt to connect, since that is the telephone's sole purpose. If that ever happens again… now with her mind adjusted to the possibility, she will be ready for it!
In the meantime, Amy's father will do what he loves to do; fly through the heavens and keep an eye on his loved ones below. 
                                        Colonel Gordon William Addy                                                                                     November 3,1928 to March 20, 2015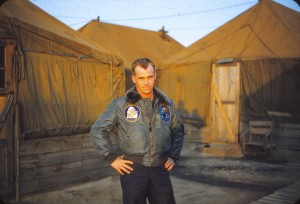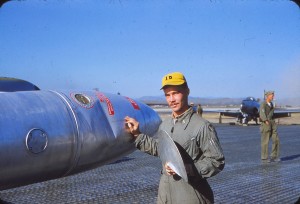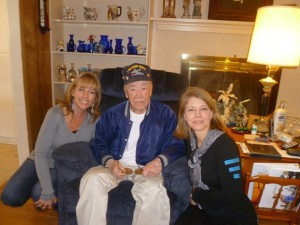 A big THANK YOU for your service!
After this was posted, Amy wrote to say, "I love your title "Hold me Again."
"Two days before he passed – I was sitting on the couch with my father and he said, "Hold my Hand."  I did – and he said, "That's Good."
"He was getting quite weak by this time so I'm so blessed we had that time to just sit there and hold hands… not saying anything – just being there."
I didn't think about "holding him again" until your title, "Hold Me Again."
"It all makes so much more sense!"