I once heard someone say that the dash between the date you were born and the date of your death IS your life. Looking at it from this perspective reveals a few things. For one, the dash is brief. Life may seem long when you are young, but the older you get, the faster it goes… and the more you understand how short it really is… and precious too.
Another thing – there is no information about the dash. It's just a dash. However long we have inside this dash and what we do with it… is up to us. What will we do with the area between our birth and death that is our life?
Because lastly, when one has passed and the physical body is gone, the whole life of that person is distilled down to our memories of them. You see, the last physical evidence that we once existed IS what we leave in our place. It is the family with our DNA, the people we loved, knew and affected, our beloved pets, the things we owned, the photos we were captured in, the mark we made on the world, a grave marker with the date we were born, the date that we died and a dash in between… AND… hopefully some kind words to sum up how we and our whole life are remembered. This is what your dash is all about.
You see, being remembered is just that. Being RE-MEMBERED. Or in other words… being reconstituted in someone's memory of you – who you were, how you lived your life and what you contributed to the world in which you lived. This is your legacy.
How will you be remembered? What will be said about your life? Did you make the world a better place in your stead?
It's up to YOU! It's your dash!
Something to think about.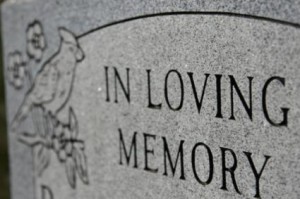 Note: For a preview of how your final dash might be re-membered, see The Exit Interview