In this after-death communication, Carolynn receives an unexpected gift for her newest grandchild, from Julie, Carolynn's deceased neighbor and friend.
Carolynn and her family lived in the same cul-de-sac as Julie for many years before Carolynn dropped off a plate of homemade English Toffee, and an invitation to attend a church social with her. Although Julie was of a different religion, she gladly accepted Carolynn's invitation, and the many invitations that followed, allowing them to become good friends over the years.
One day, early on, Carolynn mentioned the roast she was making for Sunday dinner. Julie confessed that she no longer cooked for one, since her husband's death, just 5 years earlier. Carolynn's mind drifted off to the memory of her mother-in-law, Betty. While she was living, Betty had the compassionate practice of taking Sunday dinner to a widower in her church, every Sunday. Inspired by this, Carolynn asked Julie if she could do the same for her. Julie gladly accepted.
One day, Carolynn noticed that Julie, with her swollen ankles, could not easily walk down the driveway to retrieve her newspaper. So Carolynn, volunteered to bring Julie's paper to her door. In gratitude of Carolynn's efforts to go above and beyond, Julie would always say, "I don't know anyone nicer than you!" But, Carolynn, having received so much from Julie, throughout the years, would tell you that she was just as nice.

The weeks turned into months, and the months turned into years, as Carolynn faithfully took Sunday dinner to her widowed neighbor. On the rare occasion that Carolynn would be out of town visiting her newest grandchild, she would inform Julie of this beforehand. Over those years of becoming a new Grandma, when Carolynn dropped the paper at her door, she would find a package left there for her. It was always a gift for the newborn baby. Two outfits to be exact! Of course, Julie would always say the same thing, "It's just a little something for your new grandchild." Over the years, there were eleven gifts for the eleven grandchildren born in this time frame.
Thirteen years had come and gone. Carolynn and Julie enjoyed many outings together. Then, the day came when Julie, growing older, could not go out as much. Smiling she said, "I'm too old now, but, I have so many good memories of the things we did together."
It was early on a Saturday, when Carolynn left the house for the day, that she noticed something strange; Julie's trash cans were still out from the day before! Later, when Carolynn returned and saw the cans still out on the street, she had a sick feeling inside, since Julie was always so tidy. Carolynn, recalled in her mind what Julie once told her ten years earlier, "If ever you see something unusual and that I'm not around, here's my daughter's information, so you can contact her." Carolynn put the paper in her book and put it away somewhere, just in case. But now, years later, because of the recent renovations to her home and all those years that time that had passed, Carolynn could not remember where it was. Knowing this to be important, Carolynn said a quick prayer, which amazingly led her to its exact location.
Carolynn, having connected with Julie's daughter, Pamela, and voicing her concerns, was asked to check the house while Pamela remained on the phone. When Carolynn walked into the backyard, she saw evidence that Julie had been working in the garden. But still, not seeing her anywhere, Carolynn opened the back screen door and entered the house. "Julie? Julie?", hoping to hear her answer. But there was no sound. Then, as Carolynn looked to her right, she found Julie sitting still on the couch; her worst fears were confirmed. (According to the Coroner, Julie had passed around noon, the day before. She had come inside to rest, and passed away while she was sitting on the couch in mid-text with her daughter-in-law, who wondered why Julie never texted back). Carolynn stood silent next to Julie, as she reverently remembered her special friend and reflected on how much she'd be missed.
The night after Julie's family was notified, Carolynn brought over a meal for the family that had assembled on Julie's behalf. When Carolynn appeared with the food, Julie's son, excited to see a woman he had only heard about from his mother, shouted, "That's the lady that always brought Mom Sunday dinner every week!" Carolynn smiled and was humbled to think that such a service would be so appreciated.
In the few months that followed, Pamela moved into her mother's house. And again, being led by inspiration, Carolynn asked Pamela if she could continue her tradition of bringing Sunday dinner… after all, it would mean so much. And, Pamela. like her mother, accepted the invitation.
So every Sunday after that, Carolynn brought dinner to Pamela. This made Carolynn happy, and Pamela was appreciative. But, just like in the past, when Carolynn had a new grandchild two months later, before she and her husband left for Washington to see the baby, she had to inform Pamela that, because she would be out of town, there would be no dinner brought on the upcoming Sunday.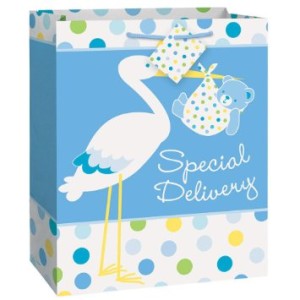 The day before departing, a knock came at the door. There stood Pamela holding a blue wrapped package, with the most perplexed look on her face.  "I really don't know how to explain this to you. I just know that my mom told me to do this." A lump formed in Carolynn's throat as she slowly gathered the courage to ask, "Is it a baby gift?" Pamela didn't even need to respond before Carolynn broke into tears; and then, Pamela too, as they realized the implications of what had just happened. As Pamela departed on her way to work, she turned back towards Carolynn with a smile, "I know it's making my mom happy!"
A day later, when the blue papered gift was opened, inside, the new mother found two outfits for her new baby boy. Two outfits!  Just like the ones Julie gave when she was alive!
Commentary- When Carolynn couldn't find the information Julie gave her, she thought to pray, and despite the disorganization in her home, help came immediately, as she was directed to the very place Pamela's information was located. For sure, we are not alone. Heavenly beings will come to assist us for the asking. In this case, Carolynn's answer was a quick one. Many times, being busy in our own head or otherwise preoccupied, we don't stick around for the answer… and because of this, we simply don't hear it when it comes.
It's interesting that Julie told Pamela to buy the usual two baby outfits, and that she heard her mother well enough to actually do so. But more interesting, is that Pamela appeared at Carolynn's door the day before she left for Washington. The implications of this were obvious. Julie was still there, being a mother and friend from beyond, making it possible for both women to know without doubt, that a spiritual connection still exists between the living and the dead, as evidenced by the situation surrounding this gift.
What stands out in this story is the theme of service. Nothing is more powerful and nothing is more healing. Whether it's a physical gift or a gift given through action, it is an offering of love. The acts of kindness between these three women are extraordinary, and with them, you can see service is contagious; from Betty, the mother-in-law, to Carolynn, to Julie, to Pamela, and to whomever else is inspired to serve… because of their example.
Just how many lives are blessed because of our service is immeasurable, for we can never really see just how far our actions ripple out. We lose sight of the impact we have on another's life; for the positive and negative. But it matters. What we do matters. Being kind to all, matters.
Many say… that at the end of it all, there is a life review. If this is true, we will experience the ripple effect of our words and actions and we will be clear of our results. Giving the gift of service, is not only a way to show our love, it is excellent for mourning a loss, and invaluable in paying off the karmic debts accumulated during a life time of being a human. But, however service is given, or for whatever the reason, the ultimate reward is the sheer joy in the moment!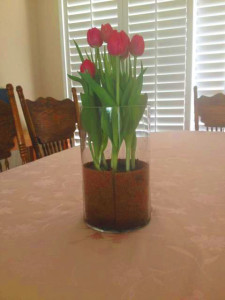 A few months later-
A few days before Mother's Day, there came a knock at Carolynn's door. When she opened it, Pamela graced the threshold with a beautiful vase of flowers. With love and gratitude for her new friend and Earth angel, Pamela spoke, "This is for you, for Mother's Day. It's a gift from me and my Mom.